Drilling Waste Management Market
Drilling waste management market cover all over the world that equipment recoginized all over the world and appraised all over the world.
With the development of the industry, we are facing more and more challenges
and responsibility to protect our environment. At the same time, government agencies continue to increase the limit emission polls cut into the environment.
Support both goals Industry and regulatory agencies.
Kosun has been developed sturdy drilling waste management equipment to lessen pollution.

KOSUN is registered in Beijing as an import-export trading company specializing in well-drilling solid control equipments, drilling Rig accessories and mud services in the oil field. KOSUN Oil Service takes charge of the promotion, sales and after-sales service of its products in Chinese market. As one of the main partners of DERRICK in Chinese market, KOSUN Oil Service is available to provide all series of products and accessories of DERRICK to customers in China.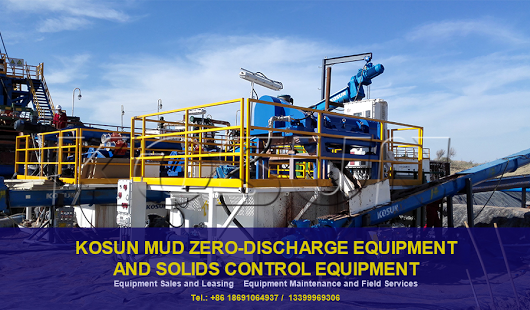 1. Kosun was established in 1992, the oil field solid control equipment has 25 years of history.
2. Kosun products are exported to Russia, Kazakhstan, Turkmenistan, Azerbaijan, Egypt, Nigeria, Malaysia, Canada, India and Mexico and other 70 countries.
3. Kosun  is one of the earliest manufacturers of ancillary drilling equipment in China and the exclusive manufacturer of oil field solid control equipment.
As China's first API control of solid control equipment manufacturers.
4.KOSUN has more than 76 patents on solid control and drilling mud waste management equipment.
5. Corson products through the European DNV CE and the Russian TP TP certification.
6.KOSUN Solids America LLC is China's first US-based solid control company.
7. Kosun management system production in line with HSE system ISO900 and ISO 1: 2008, to ensure your safety products.
8. Kosun  has the right to use the API Q1 logo, is the oil and Sinopec oil drilling equipment and parts of a network provider.
9. The total area of ​​the Solid Control System is more than 70,000 square meters (700,000 square feet).
10. The establishment of after-sales service companies in Kazakhstan and Indonesia and the development of high standards in nearly 20 countries, responsible for sales and after-sales services.
11. KOSUN is SCOMI and BRANDT partners in China.
12.KOSUN has a special equipment for manufacturing vibrating shaker screens in Asia's largest screen center city.
We are looking forward to cooperation with you.