Drilling Waste management
Drilling waste management entails all processes and precautions required or recommended to ensure a safe environment. Drilling waste contains spent fluids and drilling cuttings that result from the drilling process. The spent fluids and drilling cuttings that are referred to as drilling waste have no use in the ensuing drilling process therefore must be disposed of.
However drilling waste treatment requires that the set environmental management standards and regulations are adhered to for the maintenance of a safe environment and also in order to avoid legal disputes and penalties.
Drilling waste management  system therefore is concerned with using materials, substances and facilities in the drilling process that minimize  drilling waste while at the same time employ proper disposal of waste in a manner that reduces toxicity.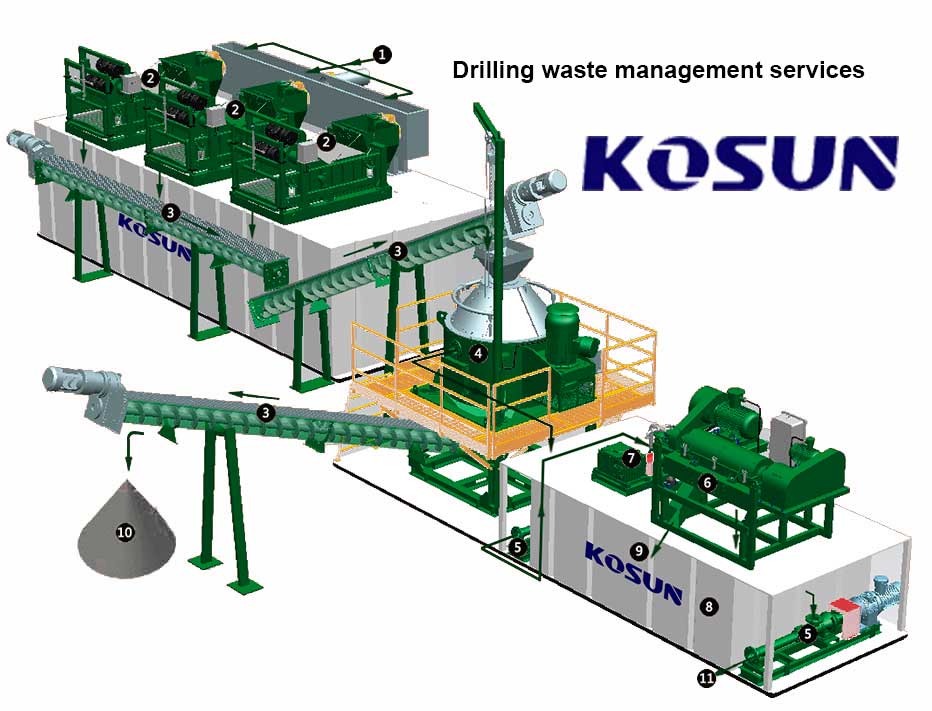 Cuttings dryer is a core equipment in drilling waste management because it enhances environmental protection. Designated to meet the strict environmental conditions and guidelines imposed on disposal of cuttings and work site, it utilizes high-speed decanter centrifuge which optimizes liquid and solid separation in high volume processing.
The cutting dryer has the following characteristics
•    Rational structure built into the bedplate that adjusts and balances the distribution of vibrating motion.
•    Enhanced protection of spare parts with wear proof measures which include use of stainless steel for mesh screen and spiral scraper to guarantee long service life.
•    The torque sensor which helps regulate the motor in case of overload in operation thus ensuring reliable operation.
•    Viewports on cone header and bedplate making it easy and convenient to inspect and maintain the screen mesh and spiral scraper.
•    The equipment uses centralized lubrication station which facilitates ease of flow of lubricant to machine parts and reduces damage due to poor lubrication.
The cutting dryer is a welcome and indispensable aspect of  waste management, designed with respect to maintaining a safe environment.