At present, solid control equipment focuses on the development of desander, desilter, degasser and other equipment with small occupation area, high efficiency and long life, and integrates with high-speed centrifuge to realize automatic detection and control of solid control system according to the test results.
Xi 'an KOSUN is a leader in the solid state control industry of oil drilling in China and a comprehensive service provider of solid state control and waste disposal of oil drilling in the world. Since its establishment in 1992, xi 'an KOSUN has been the main supplier of solid control products in the field of petroleum and natural gas drilling equipment in China, as well as the oldest and only centrifuge manufacturer in five northwestern provinces of China, and the producer of high-frequency vibration drying of the first generation drilling fluid in China.
The whole drilling fluid solid control system of KOSUN can be separated and connected between tanks and silos to meet the needs of drilling operations. The system is equipped with 5-level purification equipment, contains shale haker, vacuum degasser, desander cleaner, desilter and centrifuge, etc., the use of drilling fluid solid control system, can effectively reduce the waste mud, reduce the cost of drilling, protect the environment around the well site.
According to the requirements of field operation, KOSUN can provide customers with mobile vehicle-mounted fixed control system, saving space and facilitating transportation.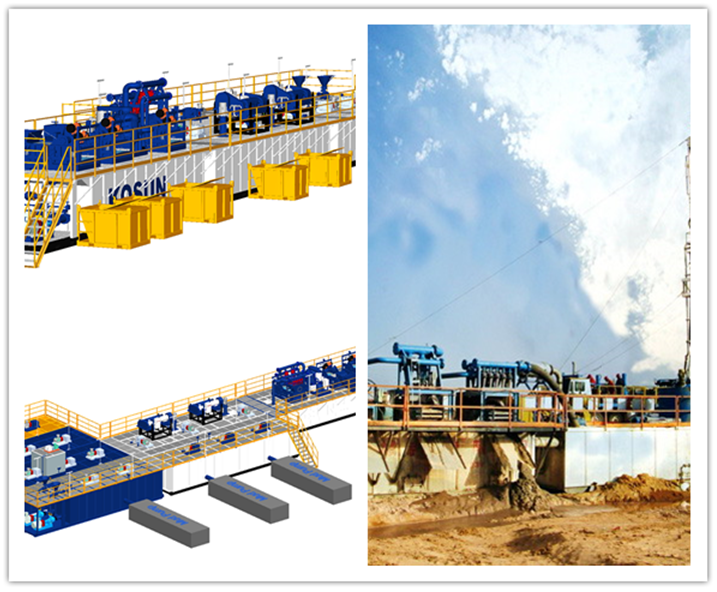 The performance and quality of drilling fluid solid control equipment is the key to solid control technology. Drilling fluid solids control system mainly includes the drilling fluid circulating tank, drilling fluid purification treatment equipment and electric control equipment three parts, including drilling fluid purification treatment equipment mainly include shale shaker, desander, desilter, degasser, centrifuge, sand pump, mixer, etc., aiming at environmental sensitive areas, can also configure cuttings recycling and waste liquid processing equipment.