KOSUN liquid and gas separator is a special equipment for primary degassing of drilling fluid.
When the liquid and gas separator is not in use, clean the drilling fluid in the equipment and wash it with water. It is strictly forbidden to store the mud in the separator to prevent the mud from being used normally after it is dry and solid.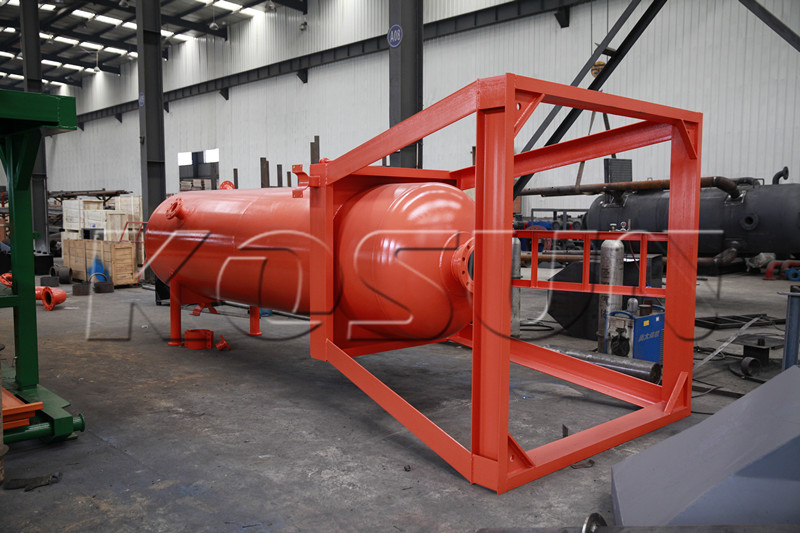 In general, the liquid and gas separator is installed on the side ground of the mud tank. The ground shall be horizontal, solid and equipped with anchor bolt pit.
When installation, use crane to lift the lifting lug on the top of the main body to lift vertically with the ground, slowly put it down, and then use steel wire rope from the upper part of the main body and the ground to take up, to ensure the main body and the ground is vertical, casting anchor bolts, fastening.
After installation, direct the exhaust line to a distance of 60-80m from the wellhead. The slurry inlet is connected with the rotary blowout preventer or throttle manifold, close the blowout butterfly valve, open the slurry outlet butterfly valve, and connect the pipe line to the mud tank.
When handling, remove the manifold, loosen the tension wire rope, use the crane to lift the top of the main body, loosen the anchor bolt to place the horizontal, at this time the ladder can be used as a handling support.
Features and advantages of KOSUN liquid and gas separator:
1. Separate and expel large amounts of free gases from your system, including toxic gases such as hydrogen sulfide;
2. The separated gas is discharged to the safe area of the wellsite through the discharge nozzle path for combustion;
3. The equipment is coated with anti-corrosion coating, which can extend the service life when dealing with corrosive gases.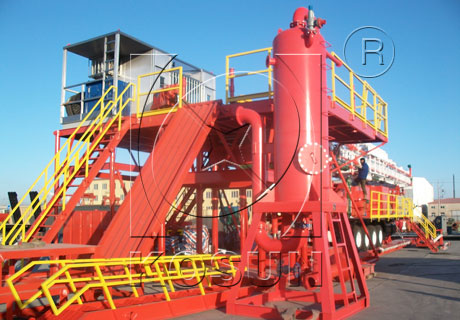 Kosun- China Solids Control Leader&Drilling Waste Management Expert
Tel.: +86 29 87304914
Email: sales2@adkosun.com
Contact person: Jinbo Zheng
Contact person: Jinbo Zheng