The desander cleaner is used in the solid phase control system of drilling fluid. It is a combination of cyclone desander and vibrating screen.
Desanding cleaner designed according to the principle of particle sedimentation, the drilling fluid separation medium through sand pump produce certain pressure and velocity, along the spiral into the cyclone wall, coarser particles under the action of centrifugal force and gravity walls along the hydrocyclone vortex sink, from the
underflow port , falls below breakdown vibrating screen separation, has risen in a spiral along the hydrocyclone, the rest of the media from the overflow mouth into the third grade separation equipment desilter further purification treatment.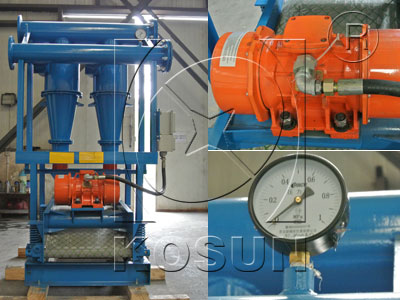 Installation and debugging of desander cleaner:
The desander cleaner is m+ainly composed of a vibrating screen, a shunt manifold and a cyclone. The inlet pipe and overflow pipe of the desander cleaner are symmetrical at both ends to facilitate installation. Connect the slurry outlet of the sand pump with the inlet pipe of the desilter cleaner, and drain the overflow pipe of the desilter to another drilling fluid tank.