How to management high-speed railway construction mud? KOSUN provide KD series mud management equipment.
KOSUN KD series mud management equipment mainly consists of scalping shaker module, desanding module and desilting module. As a pre-screener, the scalping shaker can remove coarse particles from mud. The desanding module is equipped with desander (primary cyclones) and fine-mesh shaker and mainly removes granulated sand. The desilting module is equipped with desilter (secondary cyclones) and can conduct a fine separation selectively according to the field needs of customers. Mud closed-loop circulating purification mode and lower water content in slags help reduce the environmental pollution.Wear parts of the system are of anti-corrosion and wear-resistance, long service life and low failure rate, and the system can be suitable for various severe working conditions.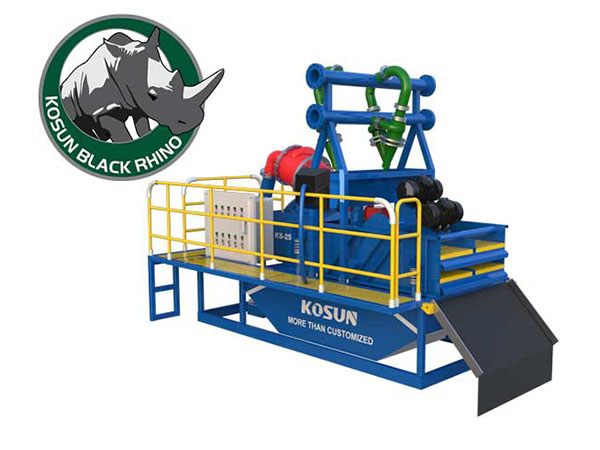 Advantages Of KD SERIES Mud Management Equipment:
-Simple and useful treatment process, as well as convenient installation, operation and maintenance;
-Modular and integrated design, transportation and installation subject to standard container size, foldable operating platform, compact structure, small footprint and flexible field use;
-Adjustable G-force of shale shaker, screen panel angle and mesh size, strong overall system adaptability and easier treatment of materials from various formations;
-Meet separation requirements on various materials and customize process as per the cut point of D 50 ; meet the requirements on different handling capacities, 100~3000m³/h;
-Meet various power specifications as per construction needs, and even generator set can be used for operation;
-The whole system is skid-mounted integrated system and can be also changed into vehicle-mounted mobile treatment unit.
KOSUN is committed to providing customers with one-stop environmental treatment technologies and services in engineering mud treatment, dredging sludge treatment of rivers and lakes, urban pipe network sludge treatment, renediation and control of contaminated soil, tailing treatment and utilization above fields, thus really realizing energy conservation and emission reduction. (Editor:Kosun Lily.Wang)
Kosun- China Solids Control Leader&Drilling Waste Management Expert
Tel.: +86 29 87304914
Email: sales2@adkosun.com
Contact person: Lily Wang
Online consulting: